Samsung is working on DDR6 memory, a new type of DRAM capable of running at 16Gbps. It's currently in development and will enter mass production next year. The company has also revealed that the industry's first GDDR7 chip is coming soon too by the end of 2018 or early 2019.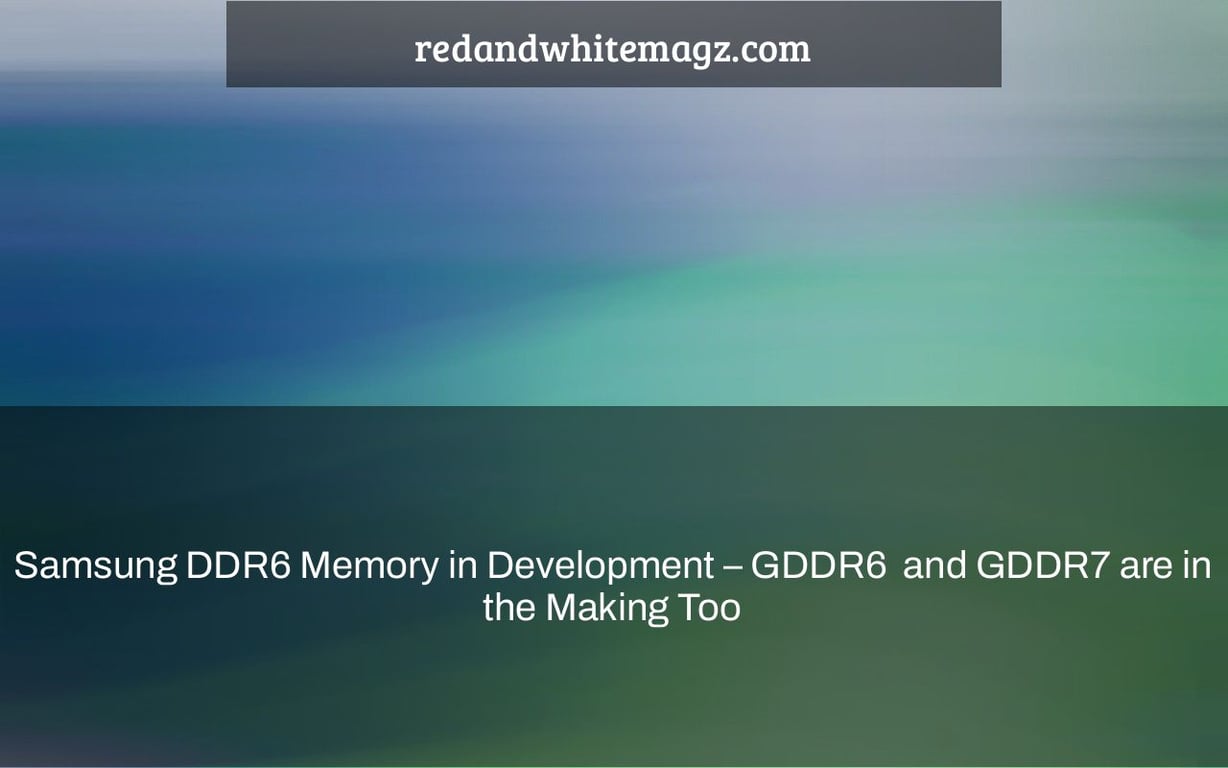 Samsung has finally revealed additional details about next-generation memory technologies, such as DDR6, GDDR6+, GDDR7, and HBM3 processes, in order to provide a better user experience for next-generation consumers.
Samsung has something new up their sleeves, as they revealed during their annual tech day, after the recent arrival of the much-anticipated DDR5 memory configuration. The new standard is already compatible with Intel's future Alder Lake processors, but that hasn't prevented memory chipset makers from improving the current DDR5 system.
Memory manufacturers are attempting to improve data transfer rates and have even teased chipsets that give up to 7000 mbps transfer speeds, which will only improve when more modern technologies are included.
Currently, DDR6 memory is being developed.
Samsung has appropriately teased their current project with the impending DDR6, which will fulfill the next-generation memory standard and customer expectations. However, due to the recent availability of the DDR5 memory chipset, the DDR6 memory will not be available until 2025-26.
Given the almost 6-year gap between DDR4 and DDR5, it's reasonable to anticipate the same for DDR6.
According to current sources, the DDR6 memory system will have a transfer speed of up to 17,000 Mbps, which will significantly improve multitasking and user experience.
ComputerBase is the source of this information.
For most DDR5 DIMM configurations, some manufacturers have teased up to 12000 mbps transfer speeds. As a result, it's not surprising that the DDR6 model will attain speeds of up to 20,000 mbps. In addition, the DDR6 chipset is likely to provide 16-bit memory channels and 64 memory banks.
GDDR6+ has been fine-tuned for next-generation GPUs.
Apart from the standard DDR6 memory chipset, Samsung has hinted at the release of GDDR6+ for next-generation GPUs in laptops and desktops. According to reports, the GDDR6 will be a more polished version of the GDDR6X with increased bandwidth.
The GDDR6+ is predicted to have rates of up to 24 gigabits per second and will be a game-changer for next GPUs.
Aside from the GDDR6+ in the works, GDDR7 is also mentioned. This one is projected to have data transmission rates of up to 32 gbps and real-time error prevention technology, and it will be the first of many.
With 32 gbps transfer speeds, the GDDR7 memory with 256-bit wide bus interface is predicted to deliver up to 1TB/sec of total bandwidth. The mere suggestion of these bandwidths is enough to revolutionize the users' whole user experience beyond their wildest dreams.
Production of HMB3 memory will begin in 2022.
The HMB3 memory is the last on the list of future releases, with major production slated to begin in the second quarter of 2022. This memory standard will combine the power of future HPC with the CPUs and GPUs used in data centers.
There is currently little information available concerning transfer speeds and efficiency. Sk Hynix just unveiled their new HMB3 modules, and the speed tests were nothing short of revolutionary.
ComputerBase, Wccftech, Wccftech, Wccftech, Wccftech, W
Watch This Video-